Amptify Represents Hearing Health in Defining of Digital Therapeutics with CTA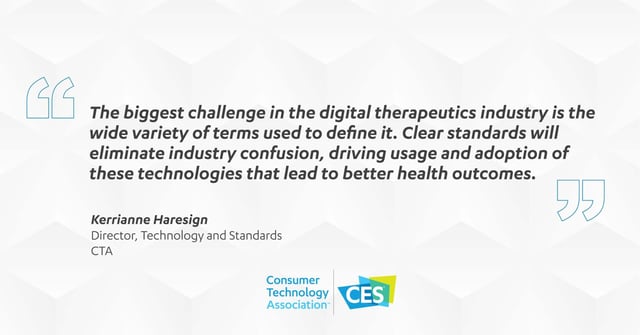 Amptify (pronounced "amp-TUH-fai"), worked alongside digital health leaders on the Consumer Technology Association's (CTA) to set new standards for Digital Therapeutics which aim to improve health outcomes.
CTA defines digital therapeutics as software that enhances clinician decision making, optimizes the dose and delivery of other forms of medical treatment through monitoring patient data in real time or act as a standalone intervention. View the full Definitions and Characteristics of Digital Therapeutics here.
"Setting standards for digital therapeutics is particularly important in the hearing health world, where the industry is quickly evolving under new FDA rules that broaden access to hearing instruments," said Amptify President & COO, Chris Cardinal who serves on the CTA Health Fitness & Wellness Committee. "For existing audiologists and hearing instrument specialists, incorporating the Amptify DTx will differentiate their practice by offering their patients guidance and support that otherwise would be cost prohibitive if provided in person. For consumers who will independently purchase hearing instruments through these emerging pathways, the Amptify DTx provides expert support and human connection that otherwise is lacking in our emerging models of hearing healthcare."
About Consumer Technology Association
As North America's largest technology trade association, CTA® is the tech sector. Our members are the world's leading innovators – from startups to global brands – helping support more than 18 million American jobs. CTA owns and produces CES® – the most influential tech event in the world. Find us at CTA.tech. Follow us @CTAtech.