Amptify Unveils the Virtual Clinic: A Comprehensive Digital Platform for Audiologists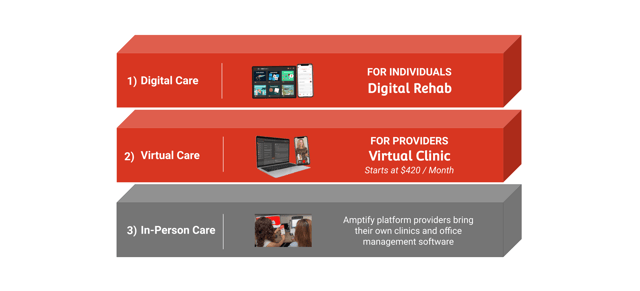 Amptify®, a pioneer in digital hearing rehabilitation, today announced the launch of its Virtual Clinic and partnerships with leading over-the-counter (OTC) hearing aid manufacturers. This comprehensive platform, designed to empower audiologists, includes:
Store Generator: A turn-key e-commerce store generator available immediately.
Visits System: A set of tools for streamlined virtual visits, available to beta users and set for public release in mid-July.
Patient Monitor: A suite of remote patient monitoring tools, a staple for digital aural rehab providers.
Virtual Assistant: An AI tool designed to support audiologists, set for public release in the fall.
The Virtual Clinic is a testament to Amptify's unwavering commitment to audiologists, designed to seamlessly integrate with existing practice infrastructure, providing a suite of tools that enhance service delivery without disrupting established workflows. The Virtual Clinic offers a timely solution for audiologists to adapt to the rapidly changing landscape of the hearing health industry.
The recent FDA approval of over-the-counter (OTC) hearing aids presents a potential disruption to traditional clinic business models. Amptify's Virtual Clinic features empower audiologists to adapt to these industry changes while continuing to provide essential care. By innovating via a digital-first approach, Amptify directly addresses the prevalent issue of hearing healthcare inaccessibility. This approach, which blends digital, virtual, and physical care, is set to transform the delivery of hearing healthcare, making it significantly more efficient and accessible to an underserved population.
Innovating Through Creative Collaborations
Amptify has established partnerships with industry giants such as Eargo®, Soundwave Hearing®, and WS Audiology, in partnership with Sony®. These collaborations enable audiologists to offer a comprehensive and diverse suite of hearing health products directly to consumers.
Christian Gormsen, President and Chief Executive Officer of Eargo, said "Amptify's inclusion of Eargo on its platform will allow us to continue our mission to champion hearing wellness for all by enabling us to build stronger relationships with audiologists and increase the accessibility of Eargo for individuals with hearing loss."
Anthony Florek, President of Soundwave Hearing, expressed enthusiasm for their expanding partnership with Amptify. "At Soundwave, our commitment to hearing health and improving lives is unwavering. Hearing care providers are now better able to capture their tested-not-treated patients and keep them within their purview of care, with Sontro® OTC Hearing Aids," he said. He continued, "By joining forces with Amptify, we can offer even more comprehensive support. From aural rehabilitation and peer support groups to a dedicated hearing health coach, listening games, and an interactive curriculum, we are proud to provide a state-of-the-art blend of technological innovation and collaboration with Amptify. Soundwave and Amptify are transforming the landscape of hearing care, making it more accessible, engaging, and impactful than ever before."
WS Audiology, in partnership with Sony, emphasized their commitment to providing more accessible hearing healthcare options. "Our collaboration with Amptify is a terrific opportunity to augment the distribution of hearing health solutions to consumers via more channels. The integration of Sony's self-fitting OTC hearing aids on the Amptify platform will enhance accessibility and help empower individuals to manage their hearing health journey with greater ease. We are excited to be joining forces with Amptify and look forward to supporting audiologists with this digital-first approach." said Anthony Cyr, Sr. Director OTC Sales for WSAudiology.
Additional partnerships are in the works, with announcements expected in the coming months. These collaborations, both existing and forthcoming, underscore Amptify's commitment to innovation and collaboration in the service of better hearing health care.
Leading the Digital Transformation in Hearing Healthcare
With over 500 registered providers, Amptify is at the forefront of the shift towards comprehensive, ongoing care in the hearing health industry. The Amptify digital hearing rehabilitation program, a testament to Amptify's innovative spirit, provides a scientifically-backed, patient-proven rehab for hearing loss. Recognizing the clinical challenges in implementing Aural Rehabilitation, Amptify pioneered the idea of outsourcing this essential care, making it feasible for audiologists to offer clinical best practice care to patients.
Patients can not only schedule virtual visits with their audiologist directly from within the Amptify patient-facing digital rehabilitation app available on iOS, Android, and at https://app.Amptify.com, but they can browse and purchase leading OTC products from their provider's online e-commerce store. This seamless integration of care and commerce offers a convenient one-stop solution for patients, allowing them to access their audiologist's services and products anytime, anywhere.
"Amptify is committed to creating a world where those with hearing loss have access to gold-standard care and products they need, wherever they are," said Chris Cardinal, Chief Executive Officer of Amptify. "Our new Virtual Clinic is a significant step towards that vision, providing audiologists with the tools they need to reach more people, increase their revenue, and better serve their patients in a way that's economically and operationally efficient."
Amptify's Virtual Clinic Features
Store Generator
The online Store Generator is designed to be user-friendly and customizable, allowing audiologists to select the products they want to sell, set their prices, and tailor the look and feel of their online store to match their brand. Profits from sales are distributed directly to the audiologist's bank account, providing a seamless and efficient way to expand their business. The Store Generator is available immediately for all users.
Visits System
The Visits System is a comprehensive tool for virtual consultations, enhancing the patient experience with streamlined scheduling, virtual waiting rooms, and embedded video conferencing. Patients can easily set appointments through the Amptify app, while audiologists can set their hourly rates, market their services, and receive direct profit distribution from scheduled consultations. This system not only simplifies the process of virtual consultations for both patients and providers but also opens up new revenue streams for audiologists, making hearing healthcare more accessible and convenient. The Visits System is currently available to beta users and will be fully released in mid-July.
Patient Monitor
The Patient Monitor is a pioneering tool in remote patient monitoring. As an extension of Amptify's renowned digital hearing rehab program, it provides audiologists with real-time access to their patients' progress. With this tool, providers can track key metrics such as noise tolerance, word discrimination, and quality of life scores over time. This continuous monitoring allows for more personalized care, as audiologists can adjust treatment plans based on the data, leading to improved patient outcomes. Furthermore, the ability to monitor adherence and completion of the digital rehab program ensures that patients are fully benefiting from the program, enhancing their overall hearing health journey. The Patient Monitor has been a core piece of functionality already existing for the provider.
AI Assistant
The Virtual Assistant named Laila, is an innovative AI tool designed to support audiologists in their practice. Laila has access to provider-facing documentation from manufacturers, serving as an invaluable resource for information. Audiologists can ask the Laila questions, streamlining the process of finding specific product details or clarifying manufacturer guidelines. This feature not only saves time but also ensures that audiologists have the most accurate and up-to-date information at their fingertips, further enhancing the quality of care they can provide to their patients. Laila will be publicly available in the fall.
Audiologists interested in enhancing their practice with Amptify's innovative digital solutions can access the Virtual Clinic at https://portal.amptify.com. For more information about the Virtual Clinic and other Amptify offerings, visit Amptify.com.
About Amptify
Amptify, a global leader in digital hearing health solutions, is reimagining hearing healthcare by making quality care accessible to everyone. Founded in 2015 by a world-renowned aural rehabilitation research team from the Audiovisual Speech Perception Laboratory at Washington University School of Medicine, Amptify has grown to provide cutting-edge solutions for over 500 registered audiologists and their patients. Through a blend of technological innovation and collaboration, Amptify empowers audiologists to deliver superior care and expand their businesses in an increasingly digital world, all while maintaining its roots in rigorous academic research and commitment to quality. For more information, visit Amptify.com